Woot! Neko-Blue is so irresponsible. He hasn't posted anything for a long time, so I will do it instead. This a recent manga that I edited myself: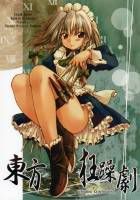 http://www.mediafire.com/?zcxtjzlwtxg

This is based on Touhou Project, one of the most successful doujin game series. You should play them if you haven't. The main character in this doujinshi is Sakuya Izayoi, a specialist at knives-throwing and time manipulation, my favorite character. Tee hee.